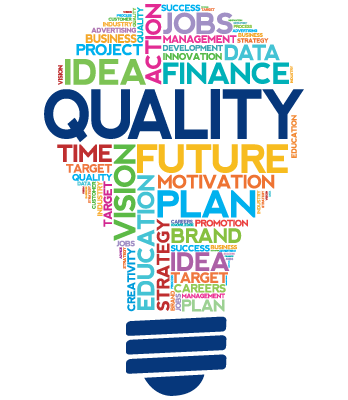 We can advise on all aspects of quality including accreditation (to ISO 9000 and many other industry specific standards such as ISO 17025, ISO 13485, TS 16949, QS9000, etc.) We ensure the documented quality systems meet firstly the needs of the business, and also enables the company to become accredited by the chosen awarding body. This is not a "one size fits all" approach. We work closely with our clients to ensure that the procedures work for them with minimal bureaucracy. We make sure that the company's management and staff are prepared to explain to assessors how they meet the requirements of the chosen standard in what may be a novel but effective manner.
ISO accreditation is only the start, and must not be allowed to limit on-going improvement. We can help clients improve efficiency by simplifying process, ensuring consistency, and minimising bureaucracy. We have experience of the many tools and techniques and will identify those which are best suited to delivering what the client wants. Buzz words like lean and six sigma do not mean a lot to some business owners. They are simply generic terms for a range of methods for resolving problems, identifying improvements and ensuring consistency in a business activity. We select the mehods which are appropriate to the business and implement them with your team, leaving them with the training and experience they need to continue to use them to the benefit of the business into the future.
"Sometimes it is the very people no one imagines anything of who do the things that no one can imagine."
Alan Turing